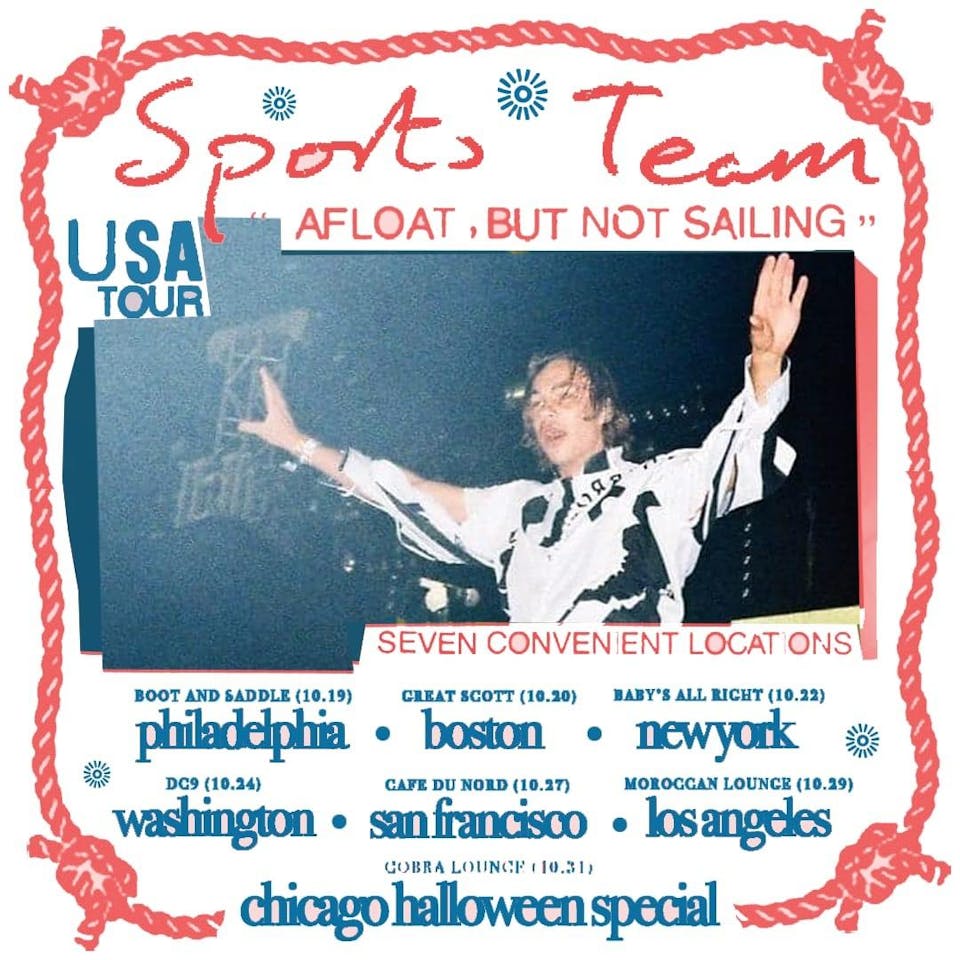 Sports Team ‡ Makeup Girl
Makeup Girl
$12.00 - $14.00
Tickets At The Door
9:00PM Sports Team
8:00PM Makeup Girl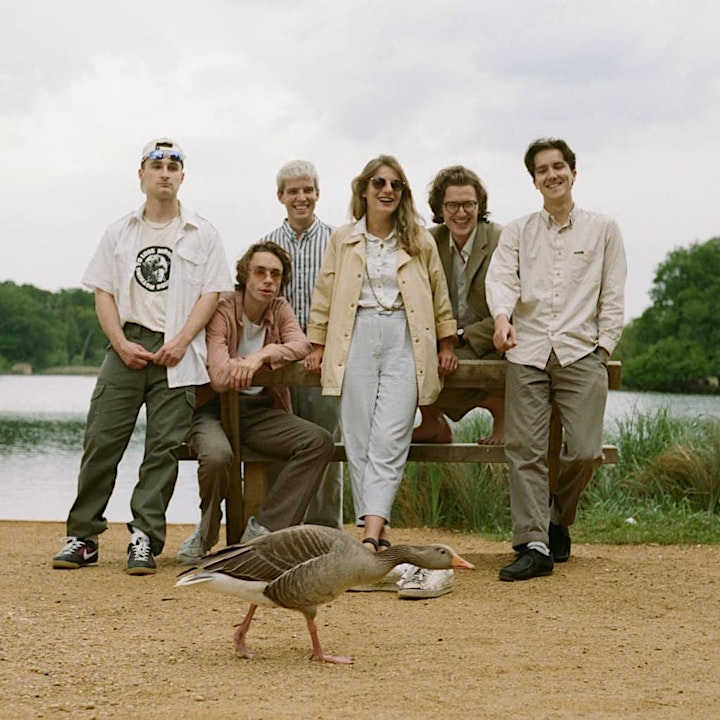 Sports Team
FACEBOOK : INSTAGRAM : TWITTER
"Sports Team should be your new favourite band" - Annie Mac
"Over the past year, whispers of Sports Team's performances and the absolute imperative of needing to see Rice and his fellow mischief makers in the flesh have spread like a wildfire."- Noisey
"Their show is an impressive one, a reminder of why indie made it back from the brink, loaded with both earworms and emotion" - The Guardian
"An intoxicating live prospect" – DIY
Today Sports Team share a brand new single, ahead of this month's debut US headline dates and a summer schedule full of festivals across the UK and Europe. 'Here It Comes Again,' produced by longtime collaborator Burke Reid (Courtney Barnett), immediately radiates the frenetic energy of the band's live shows, conjoining a flurry of guitars with quintessentially English lyrics from frontman Alex Rice and guitarist/songwriter Rob Knaggs. The song's accompanying visual finds Rice in a bee sting-induced fever dream, joining the rest of the band for an impromptu performance of the song on the English countryside.
The new single arrives as the band gears up to make their first US shows post SXSW, with three shows in San Francisco, Los Angeles and New York this month. The band's momentum has continued to build behind their bizarre and visceral live shows that they began whilst still attending the University of Cambridge, quickly achieving cult status amongst students. It's been as a straight-up live act that Sports Team have continued to rise to the forefront of the recent crop of London bands, recently selling out London's historic Electric Ballroom. With shows that see singer and ringmaster Alex Rice lead a skilfully coordinated yet slightly unhinged performance against a steely faced Ben Mack, who regularly takes calls and rolls cigarettes on stage, they are now bringing their infectious live energy to the states.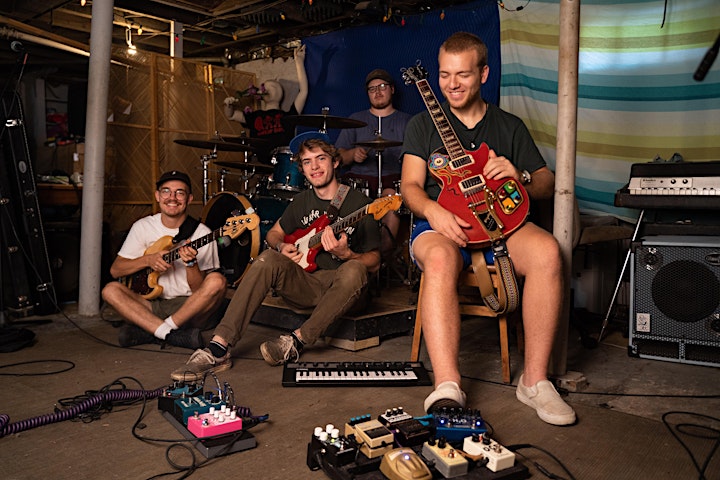 Makeup Girl
FACEBOOK : INSTAGRAM : TWITTER
Washington, D.C. based Makeup Girl is throwback indie psych rock for the modern age. Eschewing any one style, their music remains relentlessly inventive.
Singer Brody Steck and drummer Caleb Schiebel began Makeup Girl in high school, later adding in Johnny Leander on guitar and Bryce Watson for their current lineup. The longtime friendship of Steck and Schiebel centers the band, with grooves based in tethered drumming and crooning vocals.
The band released their first EP "Makeup Girl," in 2016 and shortly followed up with "Something New" in 2017, leaning from garage rock towards lo-fi psychedelia. In 2018 saw the band experiment with adding in a narrative thread to their next EP "Living Safe," cautioning the listener on the negative effects of gentrification and the dangers of complacency. The title single from "Living Safe," is the band's biggest release to-date. The streams match the joy in the room whenever it appears on a Makeup Girl setlist. That same year, the band quickly released "In Time," using all time signatures, for their most experimental sound yet.
Makeup Girl's remarkable rhythmic grip leads to their effortless tempo switching, as impressive on recording as live. At any show, the crowds tend to agree.
Makeup Girl is soon to release a new recording in early 2020.

Described by the Washington Post as "throwback indie rock," Makeup Girl is a music lover's dream come true. From their humble beginnings as a rock duo started by singer Brody Steck and drummer Caleb Schiebel, the band has expanded and matured into something much greater - something new.

Joined by guitarist Bryce Dubayah, multi-instrumentalist Johnny Leander, and bassist Avery Steck, the band is now at full power.

Drawing from the likes of Stevie Wonder, the Strokes, Funkadelic, and the Arctic Monkeys, Makeup Girl's sound can be described as an explosive combination of pop rock and other genres including jazz, R&B, latin, and funk. Drummer Caleb Schiebel tirelessly pushes his set to the height of its capabilities, pumping out tight rhythms that allow guitar lines and melodies to run wild. Audiences should expect an engaging live show, ranging from energizing rock songs to dreamy jazz inspired numbers. Makeup Girl songs are filled with surprises as the band flows from groove to groove, seamlessly switching tempo and time signatures as the songs progress.

In September 2017, the band released their second EP, titled Something New. The EP is made up of five songs that cover a wide range of sounds and styles. DC-based music blog Hometown Sounds featured the single Think of You, calling the band its "best find of the summer." Since its release, Makeup Girl has been hard at work playing shows in the DMV area and writing new songs for future releases.

Venue Information:
DC9 Nightclub
1940 9th St NW
Washington, DC, 20001