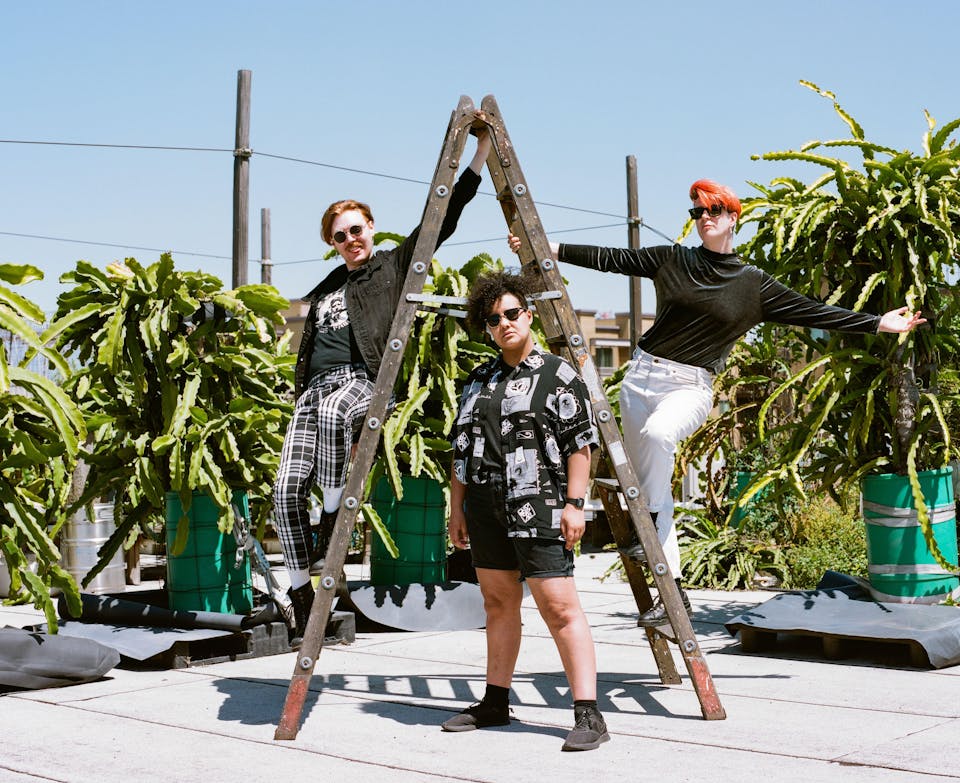 Shopping
Automatic, Clear Channel
$15.00 - $17.00
Postponed
Shopping at DC9 Nightclub

They're no longer based in the capital these days – guitarist Rachel Aggs (Trash Kit, Sacred Paws) has relocated to Glasgow, joining drummer Andrew Milk (Current Affairs), while bassist Billy Easter (Wet Dog) is now a semi-permanent resident of Los Angeles – but Shopping will always be a London band. It's little surprise, then, that the threesome returned to the city to write their formidable fourth album, All Or Nothing (out Feb 7 th , via Fat Cat).
The DIY 'supergroup' formed in 2012, respected players on a young, queer, East London scene that counted basement venue Power Lunches (RIP) as its hub. Their sound – kinetic, minimalist dance-punk inspired by the likes of ESG, Gang of Four, Slits and Au Pairs – has won them glowing press from all quarters (NME, Pitchfork, NPR), impressive co-signs (Sleater-Kinney's Corin Tucker is a fan) and a loyal, cross-continent following accrued over three, acclaimed albums: self-released debut Consumer Complaints [2013], a short-run, DIY-distributed release that sold out in a matter of months and was subsequently reissued by FatCat; Why Choose [2015, FatCat], which saw the band touring the States for the first time; and The Official Body [2018, FatCat] – produced by indie pop legend Edwyn Collins – which bagged the threesome a main stage slot at San Francisco Pride 2018 and a coveted publishing deal with Sub Pop.

Automatic is Izzy Glaudini (synths, vocals), Lola Dompé (drums, vocals) and Halle Saxon (bass, vocals). The band first met while immersed in L.A.'s DIY music scene and started jamming together in 2017. Over the past year they have become a mainstay on the L.A. club circuit. In June 2019 Automatic announced their signing to Stones Throw.
Automatic's debut album Signal is out now. They're touring Europe in October, and North America with Black Marble in November.

We care about our future too much to live in the past. We are a reflection of the love we receive and our music is the mirror. Eliminate fear. Believe. Connect. Join. Clear Channel is a punk band from Washington, DC with Awad Bilal, Carson Cox, Don Godwin and Mary Jane Regalado.

Venue Information:
DC9 Nightclub
1940 9th St NW
Washington, DC, 20001