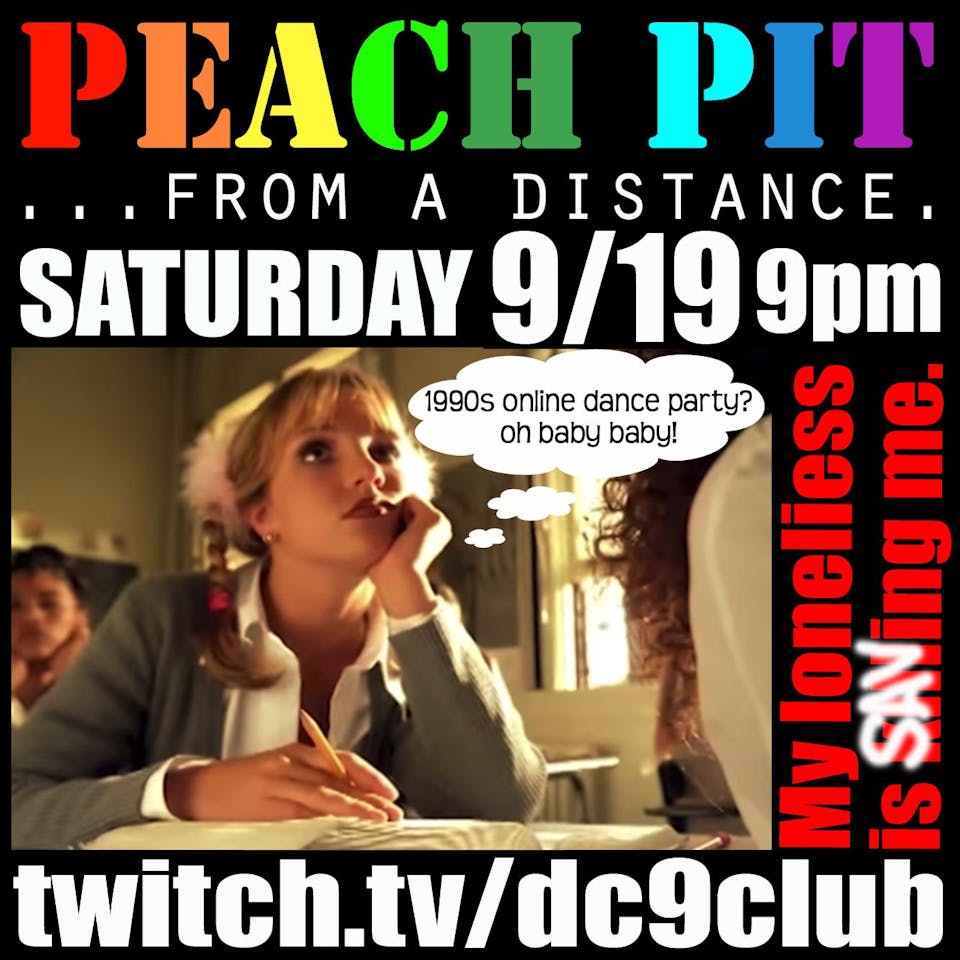 ... from a distance | LIVE STREAM | Roof Deck Watch Party
Peach Pit
DJ Matt Bailer
$0.00
Tickets At The Door
On RESY
... from a distance | LIVE STREAM | Roof Deck Watch Party
Hopefully you've been practicing responsible physical distancing and preparing yourselves for the stay-at-home orders DC just received. As a reward for your presumed good behavior, DJ Matt Bailer is gonna do a little mini PEACH PIT broadcast live from DC9, Sept 19 SATURDAY NIGHT at 9pm. Cuz, y'know, it's ESSENTIAL.
ROOF DECK WATCH PARTY
Now you can watch the live stream at home or you can watch it on DC9's roof deck
To watch it on the roof, make a reservation on Resy.
•
•
WATCH US LIVE at 9pm on TWITCH: bit.ly/PeachPit9-19
Facebook Event HERE
You can help now by donating to our relief fund for the DC9 staff.
https://bit.ly/DC9GoFundMeStaff
And feel free to post your 90s requests on the event page below.
See you there for some virtual insanity!
____
PEACH PIT has been DC's favorite monthly 1990s dance party since 2009, celebrating the decade of Crystal Pepsi, Hypercolor tees, and Doc Martens at DC9 Nightclub on the third Saturday night of every month.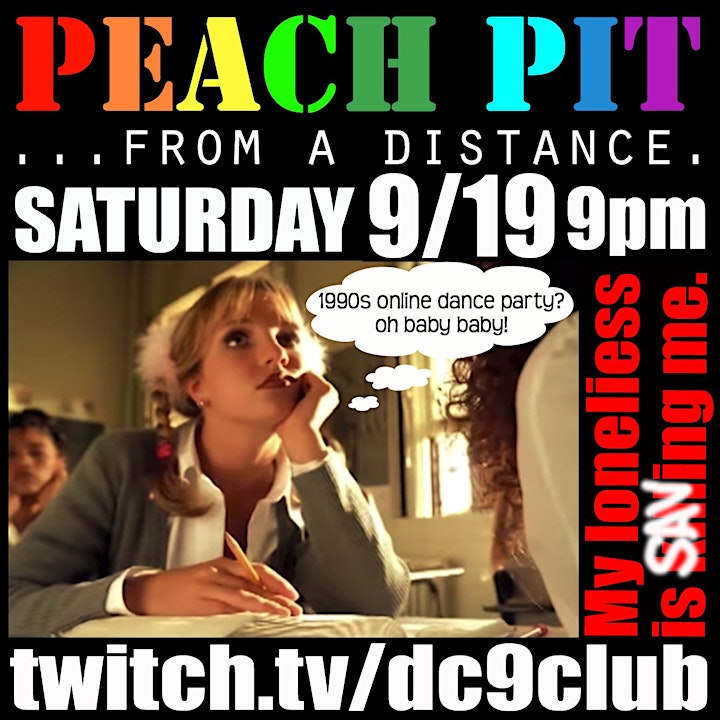 Resident DJ Matt Bailer (MIXTAPE)
Please SHARE THIS EVENT and INVITE YOUR FRIENDS to help spread the word, and remember that the earlier you arrive, the shorter the line - and the more 90's jock jams you'll get to hear!
CLICK HERE to stream a playlist of some hits and lesser known gems from last month's party.
And head on over to http://8tracks.com/peachpitdc and click "follow" to be notified of a new streaming playlist of Peach Pit-approved 90's tunes every month!

Venue Information:
DC9 Nightclub
1940 9th St NW
Washington, DC, 20001