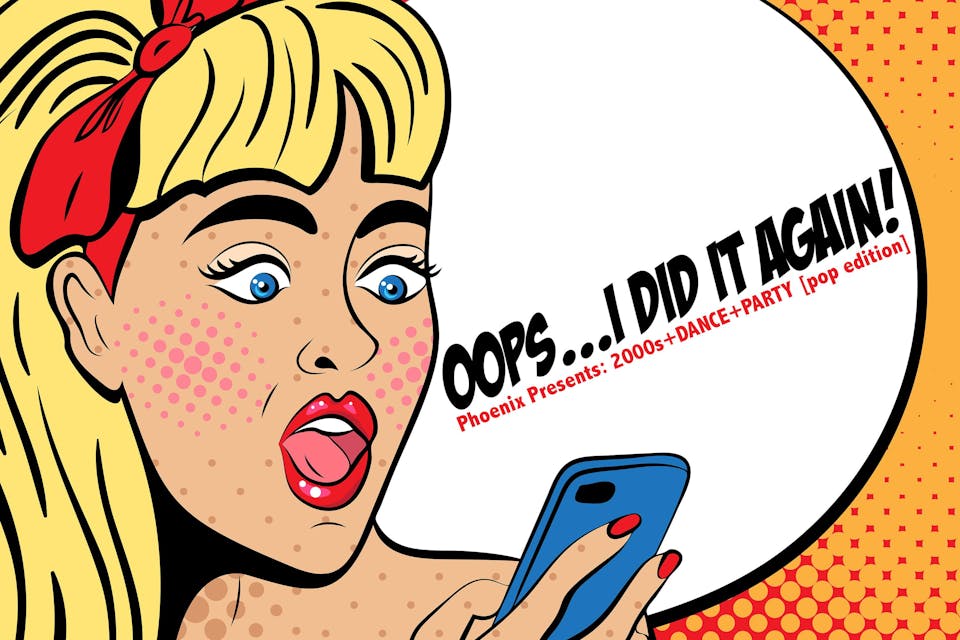 Phoenix Presents: 2000s+DANCE+PARTY [pop edition]
OOPS...I Did It Again!
$0.00 - $5.00
Sales Ended
FREE w/Advance | $5 Day Of 10PM
In the early 2000s, TRL and MTV ruled the airwaves and pop was THE culture. Music videos were king, punk went pop, and every single was a certifiable bop.
DJs Phoenix & Dionysus explore the TRL experience with the music videos you love.
You'll hear these bands/artists...
Britney Spears ✜ Katy Perry ✜ Beyonce ✜ Outkast ✜ BeyoncÈ ✜ The Black Eyed Peas ✜ Lady Gaga ✜ Pink ✜ Destiny's Child ✜ Gwen Stefani ✜ Rihanna ✜ Justin Timberlake ✜ Spice Girls ✜ Jennifer Lopez ✜ Ke$ha ✜ Shakira ✜ Kelis ✜ Taylor Swift ✜ Miley Cyrus ✜ NSYNC ✜ Mariah Carey ✜ Madonna ✜ Missy Elliott ✜ Christina Aguilera ✜ 'N Sync ✜ Crazy Town ✜ Nelly Furtado…and more

In the early 2000s, TRL and MTV ruled the airwaves and pop was THE culture. Music videos were king, punk went pop, and every single was a certifiable bop.

DJs Phoenix & Dionysus explore the TRL experience with the music videos you love.

You'll hear these bands/artists...

Britney Spears ✜ Katy Perry ✜ Beyonce ✜ Outkast ✜ BeyoncÈ ✜ The Black Eyed Peas ✜ Lady Gaga ✜ Pink ✜ Destiny's Child ✜ Gwen Stefani ✜ Rihanna ✜ Justin Timberlake ✜ Spice Girls ✜ Jennifer Lopez ✜ Ke$ha ✜ Shakira ✜ Kelis ✜ Taylor Swift ✜ Miley Cyrus ✜ NSYNC ✜ Mariah Carey ✜ Madonna ✜ Missy Elliott ✜ Christina Aguilera ✜ 'N Sync ✜ Crazy Town ✜ Nelly Furtado…and more

Venue Information:
DC9 Nightclub
1940 9th St NW
Washington, DC, 20001