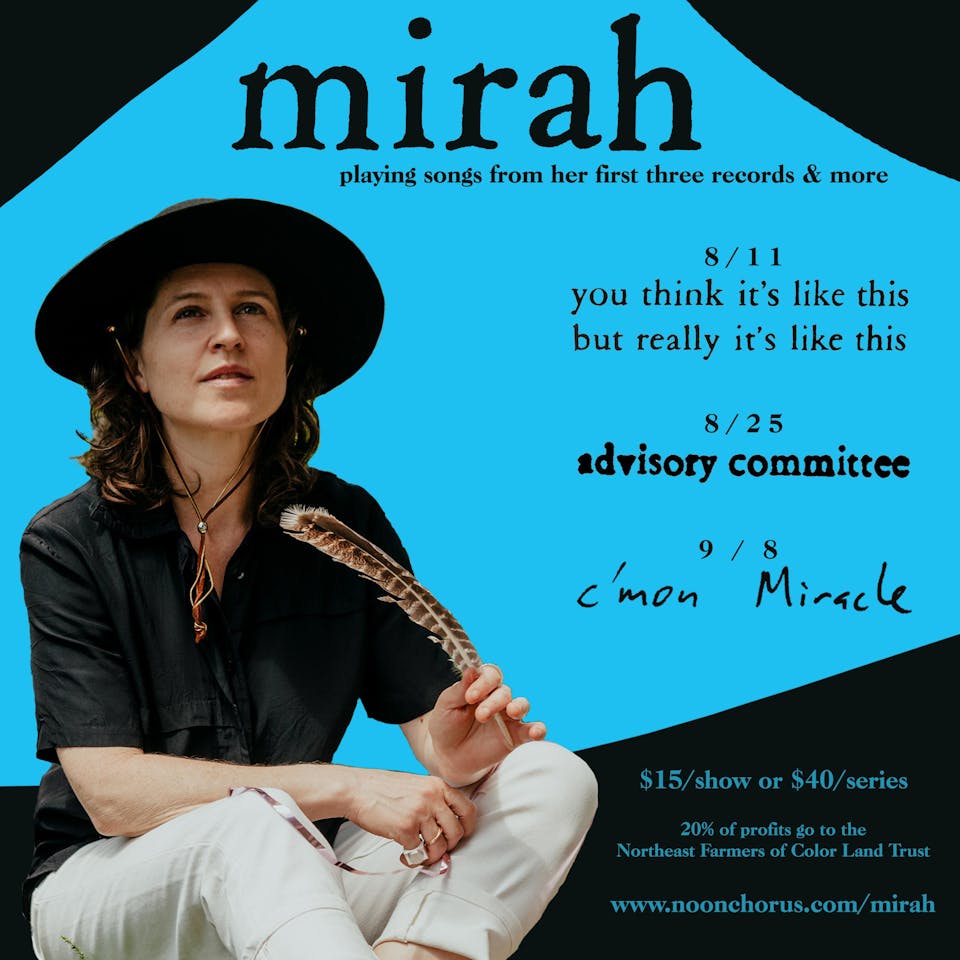 LIVE STREAM: Songs from: You Think It's Like This but Really It's Like This
Mirah
$15.00 - $40.00
Tickets At The Door
On NOONCHORUS
LIVE BROADCAST :: Songs from: You Think It's Like This but Really It's Like This
This broadcast will NOT be from DC9 Nightclub.
20% of profits go to Northeast Farmers of Color Land Fund Trust
Mirah last perfomed at DC9 on April 3 2018.
Announcing, the 20 Year Anniversary Reissue of my first album, You Think It's Like This But Really It's Like This! The double LP is remastered and pressed on two limited edition vinyl colors, and accompanied by a full tribute version of the album. Over twenty artists contributed - many of whom I've collaborated with over the years, such as Mount Eerie and The Blow, and many newer artists I admire, like Half Waif, Shamir, Palehound, and more.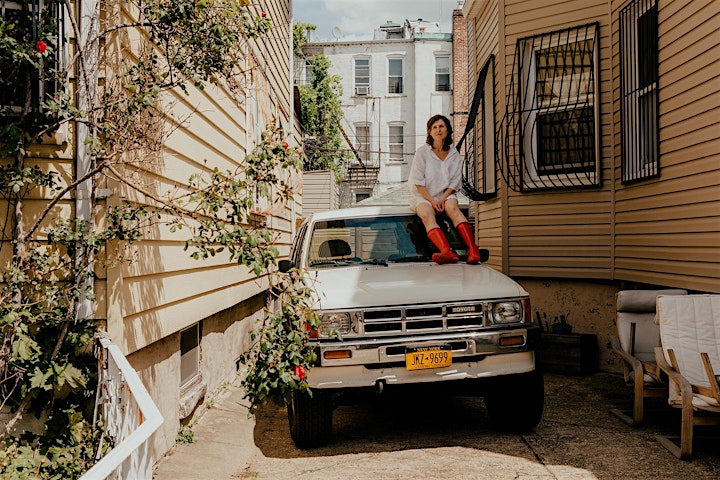 In the last months of the 1990s, in the years after she graduated from Evergreen, Mirah would regularly walk from her apartment on 4th avenue in downtown Olympia five minutes up the block to her friends' place, the Track House. On one such occasion, she holed up in their garage all night long with her four-track cassette recorder and their broken, out-of-tune piano. "It's a small town," she sang, over crackly, creeping keys. "I'll see you around...I wish you'd move."

It's sweet but sharp, like much of her expansive, decades-long catalog of beaming pop songs. And it's apt intro to the songs she was writing around that time, all laced with snapshots from small-town Oly: the railroad tracks that run through town, transient friends who'd come and go on tour, the feeling of being a million miles from the city.

"I didn't know I was making a record," recalls the singer, songwriter, recording artist and producer, twenty years later, on the brink of the reissue of her now classic debut full-length, You Think It's Like This But Really It's Like This, released in 2000 by K Records. It was just that freedom, following her first couple of EPs and tours, that made the record gleam with possibility: the excitement of beginnings, of unfiltered long-distance longings, the miniature everyday epiphanies of becoming yourself.

When it was written, Mirah was in her early 20s, immersed in a life of cheap rent, constant art-making, "distracting [herself] with the guitar and microphones" (as she sings on the album) and helping to run DIY cafes like the Secret Cafe at the Track House and the Red Horse Cafe out of her own apartment. Some days, she'd be at home experimenting with four-track home-recording. Other days, she'd be over at Dub Narcotic's giant warehouse space, in its wide open second floor studio, the Big Room, meeting up with friends like Phil Elverum (who she had collaborated with in The Microphones, and who co-produced the record), Khaela Maricich (of the Blow, who sings on some of the songs), and really, whichever cast of friends were around and wanted to play music.

"Calvin had incredible equipment and was so generous and trusting," Mirah reflects, mentioning vintage gear like an old Hammond B3 organ with a Leslie speaker used on "Of Pressure". "He gave us all keys. Sometimes we'd go in there to record and Arrington [de Dionyso] would be asleep on a mattress on the floor because he had been recording all night. We didn't even have a schedule. We were all involved with each other's projects. If I needed a choir, we'd just call everybody up and they'd walk over. And a couple minutes later, 10 friends would be there."

That's exactly what happened for "Person Person," a collective love letter to someone traveling far away, where Mirah sings over a dreamy guitar, before her whole friend group turns up for the perfectly messy chorus. It's a bit of an ode to chosen family, much like "La Familia," where interlocking vocal melodies stretch over sparks of subtle guitar noise.

Elsewhere, there's also one of indie pop's most sweeping and visceral crush songs, "Sweepstakes Prize," a perfect encapsulation of Mirah and Elverum's collaborative ability to build sparse minimalism into clattering noise, to make the tension of the lyrics utterly inescapable. For its hooky drumbeats, Elverum set up two kits on opposite ends of the room. "We both played drums at the same time," Mirah remembers. "And had them mic-ed so that it gave a natural room delay. We just had a lot of fun." (It was written about the same person as "Small Town," she recounts, laughing, a testament to the album's rollercoaster of emotions.)

Two decades later, You Think It's Like This... brims with timelessly necessary feelings: of dreaming in the moment, of not having expectations, making art because it's fun, unsupressable exuberance even when the songs are not joyful. "I just hope people can get there again," Mirah says. "My biggest hope with making music is that the music I make can do for other people what all the music I've listened to in my life has done for me. It helps me be alive. It helps me be a person. It helps me feel things. It helps me connect to myself and to other people."

Venue Information:
DC9 Nightclub
1940 9th St NW
Washington, DC, 20001