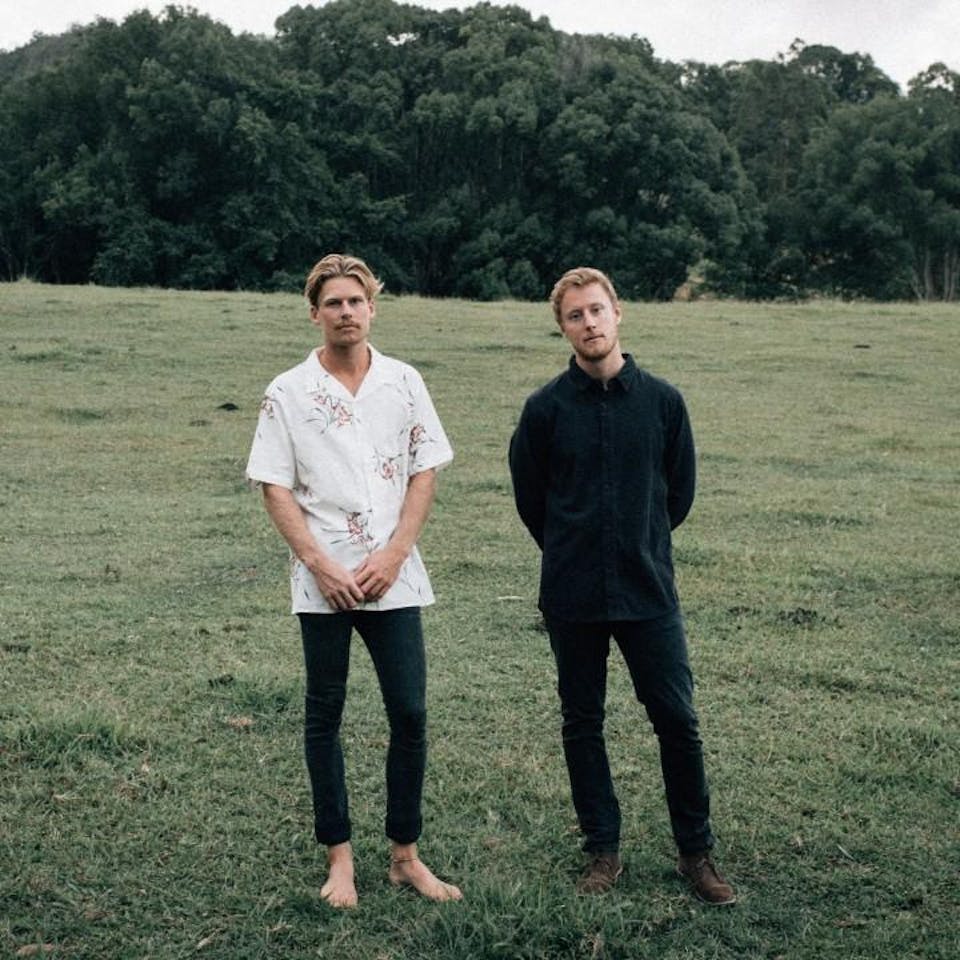 Hollow Coves ~ Harrison Storm
Harrison Storm
$18.00
Tickets At The Door
Hollow Coves ~ Harrison Storm

Evoking comparisons to everyone from Simon & Garfunkel to Ben Howard, Angus and Julia Stone, and even Coldplay, Wanderlust quietly emerged as a phenomenon. The two singles, "Coastline" and "Home," surpassed 30 million streams each on Spotify, and their song "The Woods," both the original and acoustic versions, collectively gathered over 40 million streams on Spotify. Meanwhile, the boys toured alongside the likes of Tom Walker and headlined packed shows around the globe.
In 2018, Hollow Coves retreated to the countryside of Devon in the South of England to record alongside producer Chris Bond [Ben Howard, Justin Nozuka, Xavier Rudd]. After testing the water with "Ran Away," they locked into undeniable creative chemistry and decided to record the entire album together. Bond encouraged them to take more of a "live approach" to recording.
"Each song was written at a different moment of our lives in different cities over these past few years," Ryan continues. "We wanted to inspire people, and ourselves, to make the most of our time on Earth."
In the end, Hollow Coves emanate an enduring light with every song and show.
"We hope our music can at least have some sort of positive impact," the boys agree. "If people walk away with a changed perspective, inspired, motivated, or just a little bit more stoked with life, then we would consider that a success."

"If my songs can help others connect to themselves and realize these emotions are the same, that would be incredible. It helps me understand my life" – Harrison Storm

Songs act as milestones. Life before and after never quite looks the same. Harrison Storm catalogs life in similar fashion. His music signifies a turning point as change, growth, and evolution follow on the other side of the song. The Australian-born singer and songwriter once again details a transformation on his Falling Down EP and forthcoming 2020 full-length.

That transformation ultimately unfolds by way of honest lyrics and bold musical experimentation.

"These songs are the most relevant to where I am right now," he explains. "It's a really interesting time, so the songs are personal and I'm sharing what's going on with everyone else. It all started in the aftermath of a breakup. There's a lot of reflection going on and work to do with myself and how I affect the world. I'm working it out one song at a time, finding my feet, figuring out where I stand in the world, and trying to embrace change as much as I can."

A whirlwind four years preceded this dawn. A born troubadour, Harrison traded college for busking in Melbourne. The fruits of his impromptu performances financed the 2015 debut EP, Sense of Home. The latter yielded a worldwide hit as "Sense of Home" generated upwards of 50 million Spotify streams and counting. Signed to Nettwerk, he unveiled the Change It All EP two years later and notched another hit in the form of the title track, which racked up over 30 million Spotify streams. Along the way, he occupied real estate on coveted playlists such as Your Favorite Coffeehouse, Relax & Unwind, The Stress Buster, and more as the total stream tally exceeded 100 million and counting. Plus, he made a name for himself on the road alongside everyone from Snow Patrol, Gregory Alan Isakov, SYML to Ziggy Alberts, in addition to receiving support courtesy of worldwide tastemakers KCRW, Triple J, and more.

In 2018, he turned his attention towards new tunes. For the first time, Harrison opened up the creative process to co-writing. Hitting a Nashville studio alongside Sam Ashworth, he left with the single "Feeling You."

Within just a few months' time, it put up over 10 million cumulative streams and paved the way for further progression.

"That was my very first co-write, which is something I never thought I would do," he admits. "Songwriting has always been so personal to me that it seemed foreign to share the process. It was literally about me opening up. It paid off."

Written in the UK and Australia, "Run" followed with its eloquent fingerpicked guitar and hypnotic harmonies, and both songs set the stage for the Falling Down EP. Harrison penned the third single "Falling Down" across the pond in London. Under the influence of Kygo and Lewis Capaldi at the time, he architected a vulnerable, yet vital hymn to heartbreak as a sweeping hook - "Darling, I feel I'm falling down" - breaks like waves over clean strumming and a subtle beat.

"It came out of a really tough time in a long-distance relationship," he explains. "It's a pure reflection of how I was feeling. I remember sitting on the floor. I was just fully engulfed in a sense of being disconnected from the one you love. It's one of the most honest songs I've ever written. Singing it made me feel better."

In the end, Harrison's songs will make listeners feel the same.

"I listen to music because if there's an emotion I can't quite put into words it makes me feel like I can connect," he leaves off. "It sheds light on things for me. If my songs can help others connect to themselves and realize these emotions are the same, that would be incredible. It helps me understand my life."

Venue Information:
DC9 Nightclub
1940 9th St NW
Washington, DC, 20001