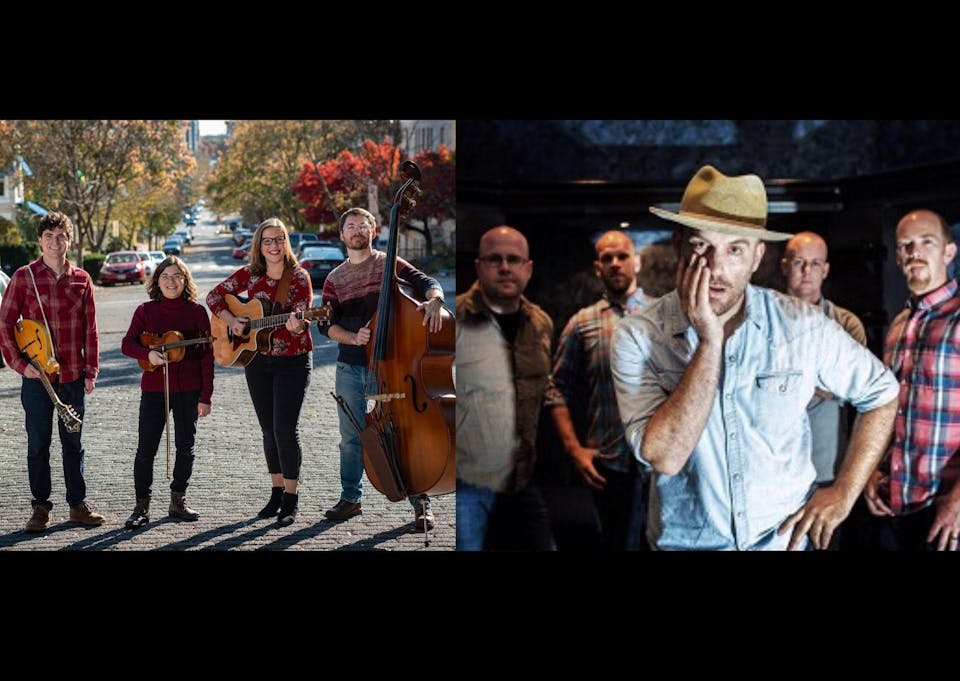 Hannah Jaye & The Hideaways | Justin Trawick and the Common Good
Eli Lev
$12.00 - $15.00
Tickets At The Door
Hannah Jaye & The Hideaways Album Release Party with Justin Trawick at DC9!
Hannah Jaye and the Hideaways

Three-time Wammie Award nominee and DC Americana/folk band favorite Hannah Jaye and the Hideaways are steeped in the folk storytelling tradition, creating an artful fusion of rootsy acoustic Americana, bluegrass and country music while weaving compelling contemporary musical narratives that speak to the challenging day-to-day realities of the millennial experience. They will be dropping their first album launch and performing at their CD launch party at DC9 on February 28 at 7:30 pm.
Led by DC singer/songwriter Hannah Jaye and featuring multi-instrumentalist Giacomo Fornasini (mandolin, banjo, harmonica), fiddle player Rebecca Weiss and bassist Greg Mulley, the band's self-titled debut album, set to drop February 28, explores various themes of a generation that is navigating the transition to independence and adulthood—and seeking to break free from traditional societal expectations—through rich storytelling couched in the dynamic, resonant sound of traditional acoustic instruments. The group worked with Grammy-winning DC-based engineer Charlie Pilzer from Tonal Park and Nashville-based mix-and-master engineer Jared Anderson from Evergreen Productions on their new album.
Since forming in March 2018, Hannah Jaye and the Hideaways have performed over 80 shows at DC-area venues such as Union Stage, Songbyrd, Gypsy Sally's, and Hill Country, in addition to numerous local festivals, including the 2019 Kingman Island Bluegrass Festival, 2019 HERA Festival, and 2019 Takoma Park Folk Festival.

Justin Trawick and The Common Good's debut record, "The Riverwash EP", exemplifies the raw emotional live sound Trawick and the band have cultivated over the years playing in clubs and festivals up and down the East Coast. With instrumentation consisting of acoustic guitar, upright bass, fiddle, mandolin, and pedal steel, the band's live performance plays fast and loose with the "Americana" genre, performing heartfelt ballads followed by raucous bluegrass melodies and even moments of hip hop verses. Written by DC based songwriter Justin Trawick, "The Riverwash EP" introduces the listener to Trawick's unique brand storytelling with five original songs about love, loss, longing, resilience, and time pulling heartstrings of listeners young and old. Adam Levy (Norah Jones, Tracy Chapman) guest performs on guitar during "All the Places That I've Been", a song inspired by Trawick's ninety-seven year old grandmother and her stories of the World War II generation. Finally, the album closes with the band's unique take on "Wonderwall" by Oasis, a track sure to trick the audience into thinking they're listening to another Trawick original.
Justin Trawick has been performing in the Washington DC area and along the East Coast since 2006, citing musical influences like Bob Schneider, Greensky Bluegrass, The Tallest Man on Earth, G. Love, Old Crow Medicine Show, and David Gray. In February of 2014, Trawick won "Song of the Year" at the Washington Area Music Awards for his solo recording of "All the Places That I've Been," which can be downloaded on iTunes as a single along with his five other solo records and EPs. In June of 2015, Trawick released his first single, "Goodbye", under the band name "Justin Trawick and the Common Good"; written about the search for direction and belonging in a world that constantly feels one step ahead of you. Trawick and the band have performed for the Kingman Island Bluegrass Festival, Appaloosa Roots Music Festival, Floyd Yoga Jam, TedxEast in NYC at the City Winery, TedxPennsylvaniaAvenue in DC at the Newseum, and has opened for over 30 national acts including Suzanne Vega, Wyclef Jean, Brett Dennen, Blues Traveler, Enter The Haggis, Bob Schneider, and Edwin McCain, and shared bills with Dr. Dogg and The Avett Brothers. Founder of the nationally touring show "The 9 Songwriter Series" and co-founder of "The Circus Life Podcast" with guests such as Kevin Eubanks, Chris Thomas King, Ernie Halter, Yarn, and Snuffy Walden, Trawick has built a brand that extends far beyond his home base in DC. For more information, please visit http://justintrawick.com

Global citizen and folk singer Eli Lev is making the world a smaller place, one song at a time. Eli pens hymns for everyday enlightenment—songs that resonate because they're heartfelt, earthy, and offer wisdom culled from self-discovery.

His recent four-album project is inspired by the wisdom and majesty of the Navajo Nation's four cardinal directions. Each album is a carefully curated experience with a distinct musical aesthetic and conceptual threads aligned within this overarching and sacred indigenous perspective. His first release, All Roads East released in 2017, with Way Out West just becoming available on December 14th, 2018. Together, this four-part series imaginatively and intrepidly connects spheres and generations with a body of work that is irresistibly uplifting, emotionally resonant, and groundbreaking.

In just two years as a full-time musician, Eli has built a robust profile through wowing audiences each time he picks up a guitar. He has opened for national names like Shooter Jennings at The Fillmore in Silver Spring, Maryland and Ellis Paul at Jammin Java in Vienna, Virginia. Eli has appeared at Burning Man in Black Rock City, Nevada, Music on the Mall Festival in Washington DC, and at Kennedy Center Millennium Stage for the METRO Performs Series.

With regional, national, and international tour dates coming up for 2019, Eli currently maintains a full schedule performing on what he has playfully dubbed the "Beltway Tour." The tour boasts an impressive series of appearances at hundreds of venues throughout DC, Maryland, and Virginia at festivals, clubs, house shows, and special events, including a special invitation to perform at the US Capitol Building by DC Congresswoman Eleanor Holmes-Norton.

Eli's latest four-part album series represents an unprecedented artistic feat. The albums offer four distinct viewpoints of folk music, showing that folk is a heartfelt intention and not a genre sound. At the most basic level, his first release in this series, All Roads East, is a traditional folk album with a full, organic sound. The title has multiple interpretations. It's a tip of the hat to spiritual Eastern philosophical practices. It's also a tribute to Navajo culture, where being directionally oriented east aligns you with sunrise and the newness of life. The album has been featured on CBS Radio, Buzz Feed, and Paste Magazine for its blend of country, folk, Americana, soul, and pop, while being free from any specific tradition. A highlight is the sweetly pensive "Making Space", which Eli calls "My manifesto, it's my vision of the world creating space to be a community and casting aside artificial classifications that separate us."

The follow up album, Way Out West, is an adventurous, futuristic folk album with bold electronic touches and experimental soundscapes. On the album, Eli artistically references the untamed nature of the west as it has been represented in popular culture. "It's that dangerous, fertile area that is unexplored. On this album, it's emblematic of me pushing the boundaries of folk music," Eli shares.

Eli performs both as a solo artist and with his full band, The Fortunes Found. The newly formed group features all-star DC drummer Michael Miraglia, wunderkind bassist Bojan Novevski from Macedonia, and soulful guitar sounds from lead guitarist Anthony Dante.

To date, the band has performed at premier DC venues such as The 9:30 Club, Pearl Street Warehouse, Songbyrd Music House, DC9, and the Rock and Roll Hotel to name a few. With marquee performances at The 202 Music Festival in DC, Takoma Park Folk Festival in Maryland, and Reston Town Festival in Virginia, the band is quickly becoming a regional sensation as they mix country, rock, folk, and soul on stage.

"The most meaningful thing for me is being able to express through my music what I've always felt about humanity. I want to bring people in, make them feel special, and break down the walls that keep us apart."

Venue Information:
DC9 Nightclub
1940 9th St NW
Washington, DC, 20001