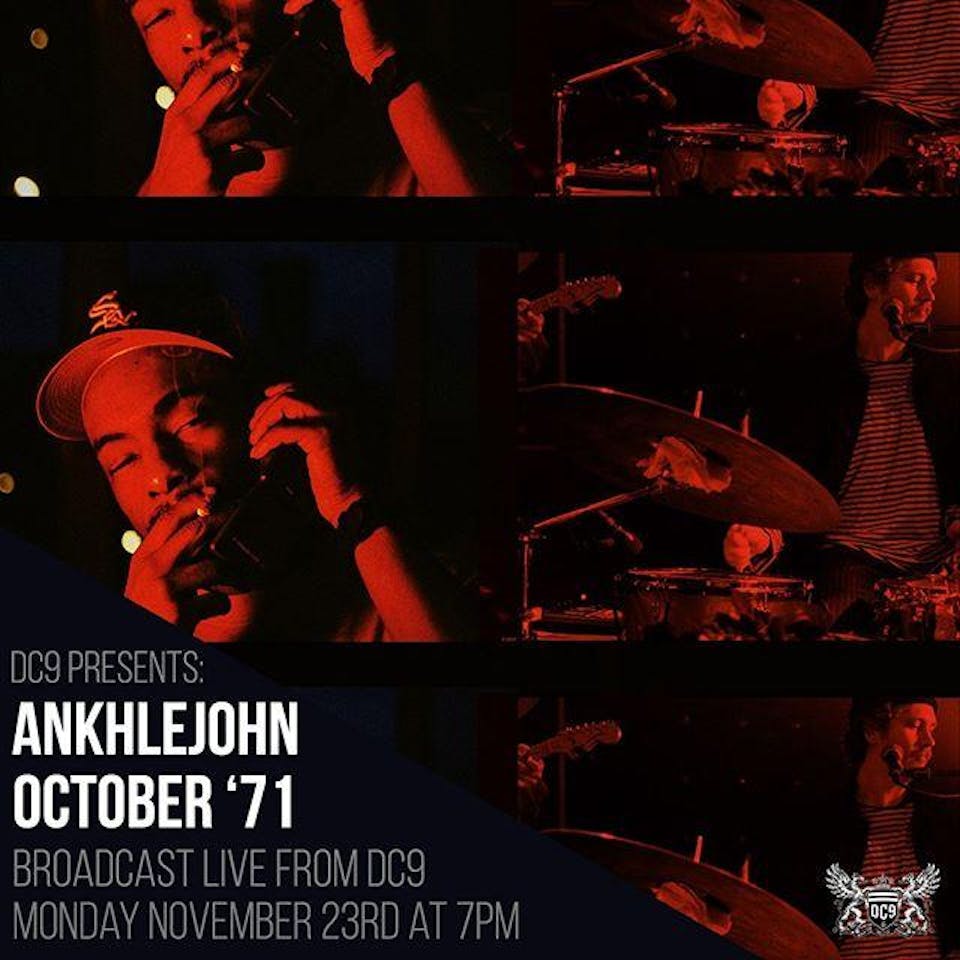 ANKHLEJOHN + OCTOBER '71 LIVE BROADCAST FROM DC9
ANKHLEJOHN
October '71
ANKHLEJOHN | OCTOBER '71 LIVE BROADCAST FROM DC9
This will be a LIVE, 5-camera, produced show, shot at DC9 Nightclub in front of a tiny, masked audience! No awkward, Instagram streaming from the couch!
FAQs
How can I access the livestream?
You will receive a link through Eventbrite's email system with your link. Please mark Eventbrite as "safe" in your inbox. If you have not received the link by 4 pm on day of show, please check your spam. If it's not there, email info@dc9.club.
How can I contact the organizer with any questions?
Please contact us at info@dc9.club with any questions.
What's the refund policy?
No refunds.
When does the show start?
The Livestream begins at:
7pm Eastern
How can I watch it on my Television?
At this time you can cast it from your device or input the link into your device's browser. Unfortunately, you will not be able to find it on a smart TV's YouTube app.
Can I re-watch the show after the Livestream is over?
No, you will not be able to rewatch the special as this is a livestream only event.
What happens if my stream freezes?
Please try refreshing your browser. If it is still frozen, test your internet connection. If the problem is with the stream, there will be a notification saying the stream is down on the video screen.
What should I do if I forgot about the stream?
The same thing you would do if you missed an in-person show.
*If you have slow speed internet, or dial-up, this is not the show for you! *
We hope you can make it!
Cheers,
ANKHLEJOHN + October '71 & DC9 Nightclub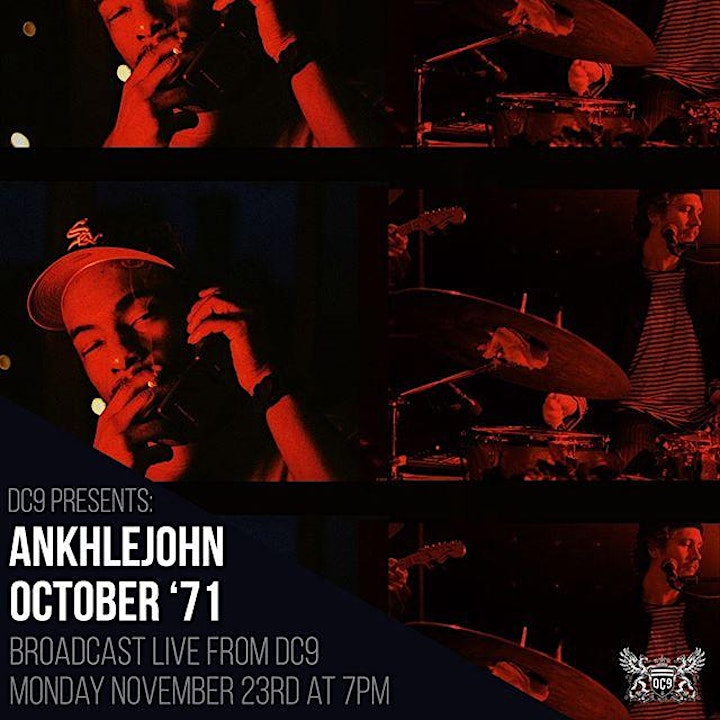 The MC from Capitol Hill has created a following for himself as he continues to push out content in the forms of music and visuals for his projects. Aside from his creativity, the name ANKHLEJOHN alone attracts listeners to want to know more.
"During high school, it came to a point where I started to find knowledge itself… I started to study ancient civilizations of my people. And I was very big on ancient Kemeticism, or ancient Egypt culture," explained the MC. Originally going by Uncle John, he started to use wordplay and ancient Egyptian influences, and decided to make the switch to ANKHLEJOHN.
"His music really has a gritty sound to it, that's what I like. It's really gritty and organic. It's really influential from the past 90's boom bap era but it also has that DMV crank that they have that high, energetic, in your face movement," explained hip-hop enthusiast and life coach Malcolm Wyche.

October '71 is a mob story steeped in sin, dipped in infidelity, an MLB championship, a rogue agent, political corruption, and mortal consequences.
All of these musical adventures quietly saturate "Live at the Heartbreak Hotel," - the first album from the band - of fluid, polyglot pop spiked with splashes of "Tropicalia, bossa [nova], blues, punk and no-wave." But, Stokes says, he never set out to make genre-punch. He's more interested in mood, and cultivates it by inviting close collaborators to the score of motifs that come from those feelings & scenes.
Now with "Episode IV", the first installment in the 9-part '71 series, we're welcomed into the story amidst total chaos. Listen below.
"In today's over-saturated and all-too-familiar musical landscape, it's refreshing to see artists create a project that doesn't necessarily fit into society's drab expectations. October '71 operate in that ethos, an ensemble that features Sir E.U, Jesse Sattler, Sam Catherman, Andrew Pendergrast, Rob Stokes, Sean Lesczynski, and Louis Puech." - Laura Irene, Washington City Paper
Venue Information: